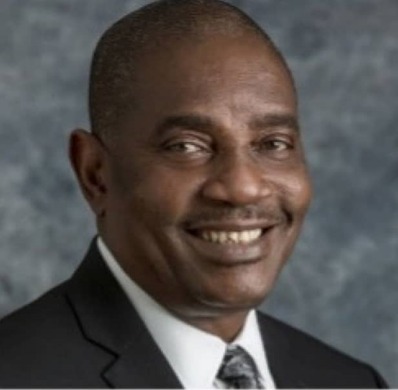 Dr Solomon E. Arase:
AAIAMLON CHAIR
NPM, FDC, FCIA (IGP, Rtd)
Dr Solomon E. Arase, NPM, fdc, (IGP, Rtd) is a 1980 Political Science graduate of Ahmadu Bello University, Zaria, a holder of LL. B degree from University of Benin and LL.M from Lagos State University, specialising in Corporate Management and Finance Law. He holds a Master's degree in Strategic Studies from University of Ibadan, and a Doctor of Philosophy (PhD) in Public Law from Ambrose Alli University, Ekpoma, Edo State. He is a Fellow of Nigeria Defence College, (fdc), and recipient of the National Police Medal (NPM). He is also a Fellow of Chartered Institute of Arbitrators.

He served as the Secretary to the Presidential Committee on Nigeria Police Reform in 2006 and was a member of Nigeria Police Committee on Review of the Nigerian Constitution/Police Act. Dr. Arase co-edited 'Policing Nigeria in the 21st Century' and was the editor of 'Monograph on Criminal Investigation' and 'National Security: Intelligence and Community Partnership Approach.' He was also on the Editorial Board of 'Nigeria Police: The Journey So Far'. His PhD Thesis focused on ''Law on Prevention and Detection of Crimes by the Police in Nigeria'.
During his service years, Dr Arase served as the Principal Staff Officer (PSO) to a record three different Inspectors-General of Police between 2002 -2008 and was at a time, the Commissioner of Police, Akwa Ibom State Police Command where he developed a policing model and provided professional leadership that did not only restore police primacy, but proved potent in addressing challenges of kidnapping, armed robbery and other highly-organised crimes that were bedevilling the State at the time. As an Assistant Inspector-General of Police (AIG), he served as the Head of the Force Intelligence Bureau (FIB) where he undertook landmark reform and restructuring initiatives. He also succeeded in establishing a state-of-the-art technical intelligence platform which has today restored the pre-eminence of the Bureau as the most strategic intelligence agency in the internal security architecture of the country and also the Complaint Response Unit as an internal oversight platform for monitoring police accountability.
Until his appointment as the 18th indigenous Inspector-General of Police on 22nd April, 2015, Dr Arase was the Head of the Criminal Intelligence and Investigations Department (FCIID) of the Force. He retired from service upon attaining the mandatory retirement age of 60 Years on 21st June, 2016 and has dedicated his post-retirement undertakings to legal practice, Security Consultancy with organizations such as the Office of the National Security Adviser (ONSA), the European Centre for Electoral Support, the Human Rights Centre at the University of Oslo, Public Speaking, Research and other Academic engagements. He is a member of the Committee on Prevention of Torture, Geneva Switzerland currently developing a universal protocol on Investigative Techniques. He is married with children.